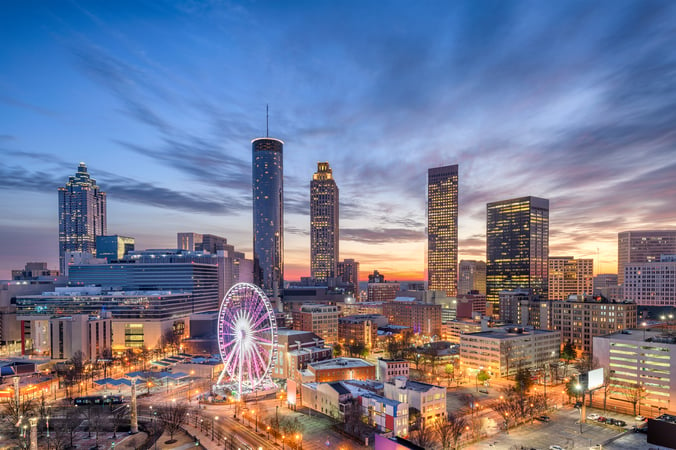 Over the last few decades, Atlanta, Georgia, has become a world-class city. It is home to multiple Fortune 100 companies like Coca-Cola and Home Depot.
But small and mid-sized companies in Georgia have different needs than the Fortune 100 companies that call Atlanta home. HR teams in small businesses are stretched thin by payroll processing, employee benefits administration, risk management, along with keeping compliant with changing federal, state, and local laws and regulations.
A Professional Employer Organization (PEO) can serve as a complement to your existing HR staff by taking on the role of handling these mundane and recurring HR administrative duties.
When deciding on a PEO, your business has an option to choose a national PEO that may or may not have a local Atlanta office versus a PEO, which is headquartered in Georgia. The following will provide three reasons why your business should partner with a Georgia PEO.
What is a PEO?
A PEO is an HR outsourcing solution that provides your small or mid-sized business with service and support to take burdensome tasks off the shoulders of your existing HR team. Your PEO may handle:
Payroll processing
Tax withholding and filing
Benefits administration
Policy and procedure creation and updates
Risk management
Employment law compliance
Taking on these tasks frees up your internal HR staff to focus on your core business needs. But with so many PEO options available to you, you may wonder why a Georgia-based PEO company is best for your business.
Georgia PEOs are Local Regulatory Experts
A local PEO is a member of your community. Local PEOs are completely focused on state and local regulations and employment laws. Because a local PEO is also based in Georgia, they have a complete understanding of the issues and concerns you face.
National PEOs focus their marketing efforts on the entire country. They collect clients from every state and cannot possibly provide exceptional service at the local level. Even if a national PEO has a Georgia office, they still take orders from their headquarters. They may not be able to provide your business with the expert level knowledge of Georgia laws that you need.
Local PEOs can also provide your business with better insurance policies. Focusing on Georgia clients means better economies of scale when negotiating rates for Georgia companies.
Local PEOs are More Personal
National PEOs seek constant expansion. They are built to grow, not to nurture. That leaves their clients longing for the support and service they were promised when they signed up.
Local PEOs have an incentive to nurture their clients. By developing relationships, local PEOs can make a positive name for themselves in the state through long-lasting partnerships with small and mid-sized businesses.
PEOs headquartered in Georgia are also nearby. If you have a serious HR issue or conflict that needs expert attention, your PEO representative can quickly come to your business to help you resolve the issue in person. Not only is this efficient, but it's also cost-effective by avoiding costly air travel and hotel expenses.
PEO Companies in Georgia are More Flexible
Your business needs are different from other businesses. If a PEO offers you a one-size-fits-all package, that may not give your business what it truly needs. National PEOs are typically inflexible and require all clients to take the same package. This means you end up paying for services you do not need.
Local PEOs, however, provide much more flexibility. A local PEO can offer you a specific set of services tailored to your business's unique needs. So you only pay for what you need, and that's all. Local PEOs will not try to sell you a one-size-fits-all package because they know that will not work for you.
Even if a national PEO has a Georgia office, they are still controlled by their home office. Those local offices can rarely provide flexibility in their packages without consulting their headquarters. Even then, you may still end up paying for services you do not need.
Georgia PEOs Provide Higher Quality Service
When you search for a PEO to partner with your business, you are seeking flexible service and expert knowledge at the right cost. With a national PEO, not only are you helping to pay for their New York City advertising budget, but you are also paying for services that you do not need and will not use.
Partnering with a local PEO can provide you with precisely what your Georgia company needs. A PEO can give your business the personalized service you expect in your community, while ensuring that service is of the highest quality.
Partner with a PEO you trust to keep your company's best interests in mind as they provide you with services tailored to your exact needs and goals.