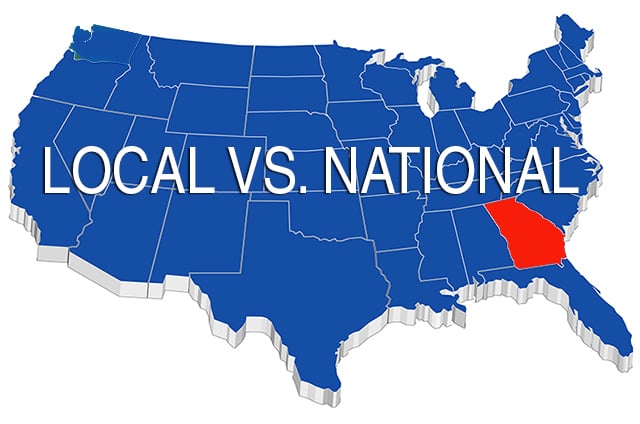 Are you spending too much time on human resources when you could be growing your business? Let OneSource Business Solutions, a professional employer organization (PEO) company, take some of the stress off your shoulders. By partnering with OneSource, you'll have more time to focus on the growth and well-being of your company. You do what you're best at and we'll do what we do best.
Do You Need a PEO?
It may sound scary handing off your most important asset, your team members, to an outside party, but according to the National Association of Professional Employer Organization, businesses that use a PEO have higher employee satisfaction rates and less turnover.
Typically, when you decide to start a business, it's because you're good at said job — not because you're a professional at human resources related tasks. Therefore, most small business owners don't have the time or expertise to manage all aspects of HR.
Local vs. National
National PEO companies have an enormous overhead; whereas, a local PEO may not. They can pass these lower overhead costs into savings for your business.
Using a Local PEO
Human resources is a complex area of any business and some issues require hands-on guidance. There are many benefits of using a local PEO partner, including:
Small business helping small business
In-person service and consulting
Local expertise: familiar with national, state and local laws and regulations
Cost savings
When you work with a local PEO firm, there is typically no corporate office to wait on. Our small business working with your small business allows for one-on-one support. This allows you more time with your account consultant and less time on hold. Not to mention, you'll most likely be calling a call center with a national PEO company.
Local Expertise
There are more than 180 federal employment-related laws that companies must comply with. On top of that, each state has many of its own additional employment-related laws. Hiring, taxes, insurance claims, wage claims and benefits–the laws are complicated and plentiful. Partnering with a local PEO ensures that you have the utmost understanding of the local laws and regulations related to employment, in addition to the many national laws. State laws are constantly changing and updating, so you need to look for a local PEO that has a deep understanding of these local compliance laws.
Once you decide to partner with a PEO firm, there are many reasons to choose local over national. While the ultimate decision about which route to go belongs solely to you, make sure you understand the differences and what to expect from each firm's services. OneSource is here for you. Contact us today for a complimentary consultation.