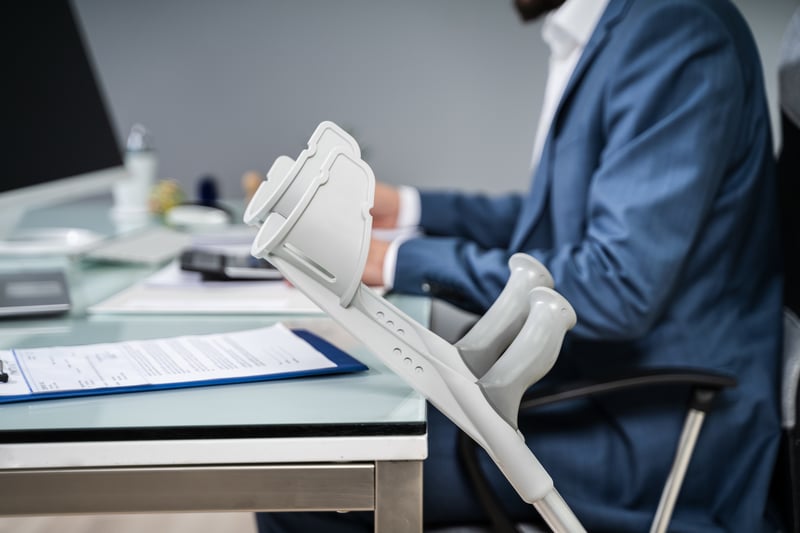 Repeated workers' comp claims wreak havoc on your company's budget by raising workers' comp premiums. There are ways to minimize the damage, but one of the most effective is to use HR outsourcing partners.
Supporting your business' workers' comp needs is one of the objectives of HR outsourcing. From finding affordable options to ensuring only legitimate claims receive benefits, you can proactively control your workers' comp costs with the right HR outsourcing partner.
What steps can you take?
When looking to control your workers' comp costs and limit the monetary damage done from repeated claims, there are several steps you can take. Together, they may help reduce your overall workers' comp burden.
Claims Processing
When an employee gets injured at work and files a workers' comp claim with your insurance provider, the insurance adjuster will contact you to find out additional details before paying out any benefits. You can work with the adjuster to get them the information they need and help them determine whether the claim is legitimate. This is a time-consuming process that will require lots of documentation but can help reduce your burden by discovering invalid claims.
Post-Accident Drug Testing
After an employee gets injured at work, some workers' compensation insurance policies will require the employee to undergo drug testing. If the employee has drugs in their system, the insurance company will most likely deny benefits.
Return to Work Program
Creating and implementing a return to work program has many benefits. While an employee is recovering from their injuries, they may still be able to do some work. Even if that work is not related to their fundamental job duties, they could still return to work at least part-time. Doing this eliminates the employee's eligibility for workers' comp benefits. This reduces the amount of time benefits are paid out, which reduces your company's premium increase as employees receive benefits for a shorter period of time.
Safety Training
Safety training is key to reducing the number of on-the-job injuries suffered by your employees. Safety training reminds everyone, both new hires and long-term employees, how to stay safe at work. A comprehensive safety training program will require your dedicated time and attention, taking you away from more critical tasks.
OSHA Compliance
The Occupational Safety and Health Administration (OSHA) regulates workplaces and employee safety. Failing to comply with OSHA regulations can leave your company open to costly fines and penalties. Remaining compliant with OSHA best practices helps reduce workplace injuries.
Detect Fraudulent Claims
Most employees are honest and will not file workers' comp claims unless they really suffered an injury. However, some employees will try to take advantage, and others will not understand that their injuries may not be eligible. Taking the time to review in detail every claim filed is necessary to ensure that only legitimate workers' comp claims receive benefits.
Defend Your Claim in Court
Some workers will insist their claims are legitimate. That may require your attendance at a hearing to prove why the injury is not covered under your workers' comp policy. This will take a great deal of preparation time to ensure you are adequately prepared for the hearing.
Why does HR outsourcing help?
You may be able to handle all of the above internally. You may be able to take steps to reduce your workers' comp costs. But it will not be easy, and it will not be fast. 
Your time is valuable and should be spent on your core business needs. The right HR outsourcing partner can handle all of the above for you, taking care of each step accurately and quickly, saving you valuable time. When you partner with a Professional Employer Organization (PEO), your company has even more advantages.
How are PEOs different from other HR outsourcing solutions?
Countless HR outsourcing companies offer services to small and mid-sized businesses. But only one type of HR outsourcing provides you with comprehensive support—a PEO.
For your workers' comp needs, partnering with a PEO means gaining access to the PEOs workers' comp plan. This saves you money on the front-end because you don't have to pay a deposit. You simply join the workers' comp policy on a pay-as-you-go basis.
Because you are on the PEO's workers' comp plan, they handle replying to claims and work closely with the insurance adjuster to ensure only valid claims receive benefits. The PEO will also handle any hearings on your behalf.
What's more, by joining the PEO's workers' comp plan, you inherit their experience modifier, or e-mod, rate. Depending on the number of claims filed against your company, your e-mod rate might be high, causing cost-prohibitive premiums. By gaining access to the PEO's e-mod rate, you could see a premium reduction almost immediately.
Control Your Workers' Comp Costs with a PEO
You can attempt to manage your workers' compensation costs on your own. But it will take tons of effort and time on your part on your internal HR team. And let's be honest, you both have much more pressing matters to deal with than mundane workers' compensation.
Controlling your workers' compensation costs is not only easier with a PEO, it can save you money. PEOs provide an average ROI of 27.2%. Because of the comprehensive support provided to you and your team, PEOs can offer you high-quality HR support without extreme costs. Partnering with a PEO could be the right move for your business to help control your workers' comp costs.