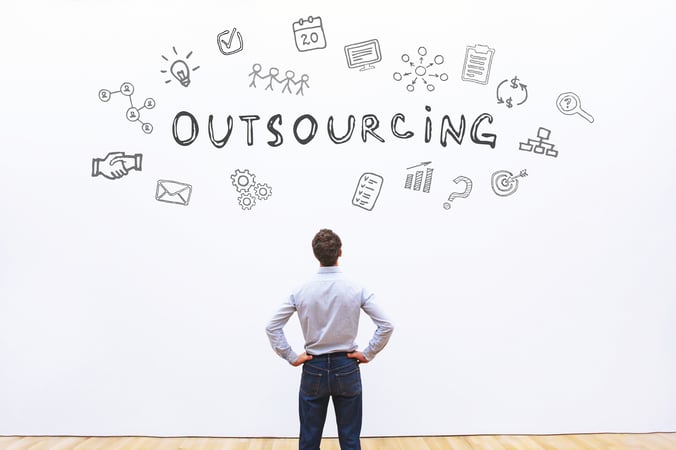 Outsourcing HR functions is a growing trend, with more and more companies choosing to outsource at least some HR functions to a third party. This is driven by a number of benefits, which include freeing up in-house staff from tedious, routine tasks, providing better benefits, and improved compliance. More and more companies are finding that outsourcing HR functions provides them with a competitive advantage.
So, what are the objectives of HR outsourcing, and how can you reap the numerous benefits?
Three Major Objectives of HR Outsourcing
HR outsourcing can be boiled down to three major objectives, all of which can easily be achieved with the right partner.
Cost Savings
Saving money is, of course, a primary goal. HR functions can be expensive, especially if they are done inefficiently or inaccurately. Specifically, outsourcing HR can substantially reduce costs in two areas.
Administrative Costs
As your company grows, so does the amount of time spent on routine tasks such as benefits administration and filing payroll taxes. Adding another person to your HR team can be costly. So can delegating administrative tasks to other people whose talents are best used directly growing the company.
Outsourcing HR can allow you to get these routine tasks done at a fraction of the cost, without interrupting or distracting other employees.
Benefits
By outsourcing HR functions, you can gain access to a master benefits plan, which is negotiated by experts and gives you the advantage of economies of scale. This allows you to get much better benefits than you can afford on your own, making you more competitive in the marketplace for talent.
Human Capital Management
By outsourcing HR, your in-house HR team can focus on more important things that help grow your company rather than spend time on transactional HR functions. They can use their expertise and intimate knowledge of your company to improve in a variety of areas:
Company Culture
Having a strong company culture provides a number of benefits, including improved health, increased retention, and higher productivity. Creating a good company culture is hard, and it is something that requires a lot of attention and work from HR and managers. Outsourcing frees HR people up to focus on employee engagement and turn your office into a great place to work.
Employee Relations
HR outsourcing can help with employee relations both by freeing up HR staff and by providing access to training materials that have been developed over years. These materials can then help lower the incidence of discrimination, harassment, and other workplace issues.
With more time, HR can engage in practices proven to improve employee relations, such as continuous feedback.
Talent Acquisition
Combining a strong company culture and better benefits makes you much more competitive in the job market. It allows you to attract top talent, which can otherwise be hard for small- and medium-sized companies. Attracting top talent, in turn, strengthens the company culture, and sets up a feedback system that continues to bring good talent to your company. Strong company culture also increases employee referrals, which tend to bring a very high quality of candidates.
Increased Efficiency
Finally, outsourcing your HR can increase the overall efficiency of HR functions, saving time and money both and helping your business grow. Particularly, it can help:
Focus on Core Competencies
When HR is overworked, routine tasks from HR tend to spill over into other departments. These tasks do not generate revenue and are generally not the best use of your employees' time. By outsourcing these routine tasks, you free your employees to focus on their core competencies and work on the company's actual mission. This is even more important if routine tasks are being picked up by the owner to make sure they get done, distracting them from strategic planning and handling the business' future.
Payroll and Employment Taxes
By outsourcing HR, you can let your partner's dedicated experts handle processing payroll and remitting employment taxes. These tedious tasks take several hours per pay period, and outsourcing them lets your team do more interesting and overall useful things. It also reduces your compliance risk, as the task is handled by experts who have the right tools and know how to use them effectively.
Vendor Relationships
HR works with a lot of vendors. For example, you might have a broker for group health insurance, workers compensation, retirement benefits, etc. By outsourcing, you reduce the number of vendors you deal with on a daily basis.
This means you only have to worry about one bill a month, are spending less time processing bills, and are less likely to miss a payment because it fell through the cracks. You can also predict your expenses better, making it easier to budget.
The objectives of outsourcing HR ultimately boil down to saving money, saving time through improved efficiency, and increasing productivity. HR outsourcing simply works, and it helps you provide better benefits to your employees, avoid compliance problems and, above all, build your company into a great place to work.