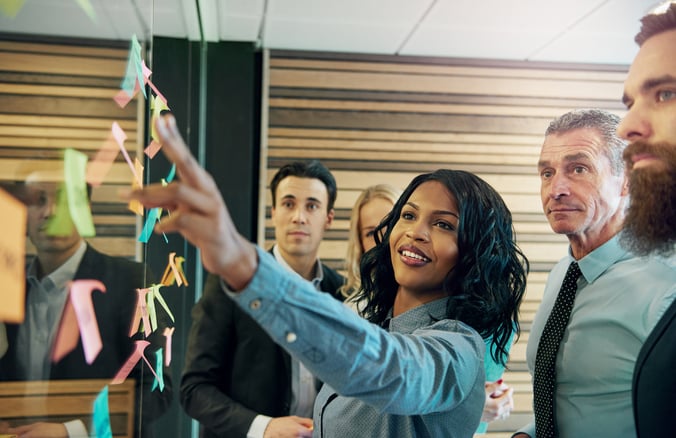 The popularity of HR outsourcing is consistently increasing. The global human resources outsourcing market is growing at a compound annual growth rate (CAGR) of 8.69% (2018-2022). With thousands of organizations adopting HR outsourcing tactics, the role of HR professionals is changing.
Outsourcing HR functions to a partner doesn't mean replacing the human resource department. However, the priorities for HR employees will change.
When you decide to outsource, you need to consider the benefits of such a partnership for your company as well as how this move affects the role of your in-house HR team.
What Are the Benefits of Outsourcing HR Functions?
Let's take a closer look at the advantages of outsourcing HR functions to a partner.
Time Savings
A formidable part of your HR department's duties consists of repetitive administrative tasks. It keeps the HR team from focusing on core competencies and missing important aspects of the department's function.
By outsourcing mundane tasks, HR professionals can save time and direct their efforts to where they are needed the most.
Tasks as payroll and employment tax remittance require time and close attention to detail. By delegating them to an HR partner, your team gains time to dedicate to other functions.
Cost Savings
When you hire an HR professional, you have to be ready for substantial expenses. From onboarding and training to salary and benefits, a new team member is always a serious investment.
You also have to work hard to keep your new talent on board in order to avoid expenses related to high turnover. By working with an HR partner, you lessen hiring and retention expenses.
Additionally, when collaborating with a PEO (Professional Employer Organization), you get access to Fortune 500 employee benefits, which are usually out of reach for small and mid-size businesses.
Compliance
Staying compliant with human resource regulations requires continuous monitoring of federal, state, and local laws. Keeping up with tax reporting requirements, workers comp and unemployment insurance, the Affordable Care Act, and employment laws (Americans with Disabilities Act, Fair Labor Standard Act, and Equal Employment Opportunity Commission) can be a major challenge.
In response to the COVID-19 pandemic, a slew of new HR-related laws came into play including the Families First Coronavirus Response Act (FFCRA), CARES Act, and American Rescue Plan.
By outsourcing human resources functions to an HR partner, you delegate these responsibilities to a team of experts who ensure compliance.
How Does Outsourcing Affect The Role Of Human Resource Professionals?
Outsourcing affects the role of human resource professionals by providing your HR team with extra time to focus on core competencies.
Recruitment Process
Instead of focusing on repetitive administrative tasks, your HR employees acquire extra time to search for new talent. The HR department gains an opportunity to restructure the recruitment process and make it more efficient.
Since HR outsourcing allows employees to take advantage of top-notch benefits, the top talent is more likely to accept your offers. While your HR department is working on recruitment tactics, the HR partner prepares an attractive benefits package.
Performance Management
Performance management is a continuous process that involves explaining and clarifying job responsibilities, priorities, and expectations to maximize performance and work efficiency.
Proper performance management helps boost employee engagement and productivity. It's an integral part of the human resource department's responsibilities. Small HR teams struggle to squeeze this task between various other duties, thus hindering its efficiency.
By working with an HR partner, your HR team can improve its performance management tactics. Once they have sufficient time for in-depth performance management, HR professionals can easily detect performance problems and optimize workforce efficiency.
Employee Development
Employee development is one of the pillars of a company's success. HR departments that support comprehensive development can improve the organization's profitability and boost employee satisfaction.
While employee development is a top priority for HR professionals, they rarely have sufficient time to develop and implement a diverse development program.
By outsourcing other HR functions, your HR team gains valuable time to work on this task. They get an opportunity to map out a full development plan instead of waiting for the employee to show initiative.
Working with an HR partner gives your team a chance to switch from a reactive to a proactive approach, thus improving the company's profitability and employee satisfaction.
Company Culture
One corporate study showed that 92% of decision-makers believe that improving company culture can improve the value of their company. If your HR department doesn't have sufficient time to focus on employee relations and development, the company culture suffers.
By outsourcing some HR functions to an HR partner, your team gains sufficient time to work on numerous company culture aspects. This can increase the retention rate and make your company more appealing to top talent.
Improving Your Business by Outsourcing HR Functions
Collaborating with an HR provider doesn't necessarily mean downsizing your HR department. It creates an efficient tandem that allows your HR team to focus on its core competencies without losing time on mundane tasks.
The effect of outsourcing on HR professionals depends on which HR functions are outsourced. To understand which combination of HR outsourcing services is right for you, download our free eBook "Which HR Functions Should Your Business Outsource?"