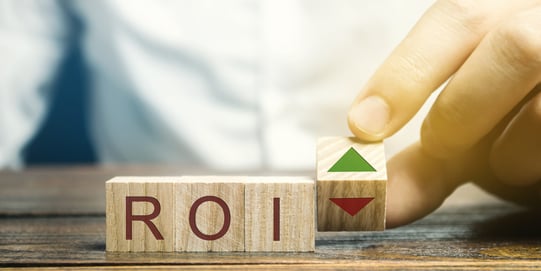 Many businesses choose to outsource some or all HR functions to save money. But the ROI from HR outsourcing solutions varies. The best way to get a high ROI is to use a Professional Employer Organization (PEO).
According to a September 2019 report from the National Association of Professional Employer Associations (NAPEO), the average ROI of partnering with a PEO is 27.2%. More than half of these savings come from the use of co-employment, which allows the PEO to take on much of the mundane administrative burden associated with HR.
So, how do they provide such a good ROI?
ROI Calculations
The return on investment is calculated by dividing the net benefit of the investment by its cost. In this case, the net benefit is the savings you experience minus the cost of partnering with the PEO.
The NAPEO study calculated ROI based on five different categories of HR-related costs, specifically:
HR personnel costs
Health benefits
Workers' compensation
Unemployment insurance
Other HR service expenditures such as payroll
The ROI of 27.2% essentially means that for every $1,000 you spend on PEO services, you save $1,272. Importantly, this only covers direct cost savings, not indirect benefits such as reduced turnover and improved employee morale from better benefits.
So, how does partnering with a PEO result in these cost savings? Here are some specific areas.
HR Personnel Costs
Partnering with a PEO does not mean you should reduce your existing HR personnel. Your in-house HR people provide vital services to your employees and have an understanding from being on site. However, you can slow down spending on overhead by not having to hire additional staff. Also, your HR people will be able to focus on important things like employee relations and mediating disputes, rather than being bogged down in tedious, mundane tasks.
Health Benefits
When you partner with a PEO, your employees go on their health plan. This generally means that you can access a better and more affordable plan than you could buy on your own. This is made possible by a co-employment agreement.
In co-employment, the responsibilities of the employer are shared between two parties. In this case, all hiring, firing, and day-to-day decisions are made by the original employer. PEOs only use co-employment so that they can be recorded as the employer of record for tax purposes.
Your PEO is employer of record for all of their clients. This allows them to come to the bargaining table with better economies of scale and significantly reduces premiums. Many insurers charge small employers more because of the smaller risk pool. By combining the employee count of many small companies, PEOs can negotiate a better rate. This then results in happier employees and lower turnover. Good healthcare benefits are vital for attracting and retaining top talent. For many small businesses, a PEO is the only way to afford the kind of benefits they want to offer to their people.
Workers' Compensation
Co-employment also means that your employees are on the PEO's workers' compensation plan. This gives the same economies of scale and reduces the experience modifier rate, which insurers use to assess your risk. The larger number of employees reduces the rate, and thus your premiums. Workers' compensation premiums are calculated using the EMR as well as class codes and payroll.
You also don't have to worry as much about a sudden premium hike after an accident. The larger pool means that you will not, as you might fear, suffer from other people's negligence. Instead, you will benefit from the strong safety record of the PEO.
Return To Work Programs
A return to work program, which allows employees who are recovering from an injury to return sooner in a limited duty capacity, can be very hard for small employers to put together.
A good PEO will work with you to create and adjust a return to work program to fit your needs. Having a return to work program gets injured employees back to work faster, which in turn lowers the cost of workers' compensation claims, and thus reduces the risk or amount of a premium hike. It also means that you have a higher chance of keeping the injured employee and their institutional knowledge. When done properly, a return to work program increases productivity, raises morale, and shows that you care about getting people back to work.
Safety Training
Another benefit a good PEO can offer is established safety training programs that you can simply take and adjust to your needs. The improved safety training reduces accidents, which also saves on workers' comp costs. Safety training can also reduce downtime and employee turnover. Looking after your employees is always a good investment.
The cost of designing a safety training program from scratch is considerable. Many PEOs can also offer advanced safety programs that more cost-effective.
Lower Turnover
NAPEO studies have shown that PEO clients have lower voluntary turnover rates than the national average. This is in no small part because PEOs can offer better health and retirement benefits.
Employee turnover is costly. New employees have to be located, hired, onboarded, and trained. They also tend to have lower productivity than established workers. High turnover also has a negative effect on your company culture and institutional memory, which can result in a turnover spiral where the culture is damaged by people leaving, and then the damaged culture causes people to leave.
Because of all of these factors, PEO clients get an average ROI of 27.2% on their HR outsourcing costs. This is an average, so many PEOs can get you an even higher ROI. Partnering with a PEO is the best way to save money by outsourcing HR functions, and can also help you attract and retain better employees and thus grow your business.