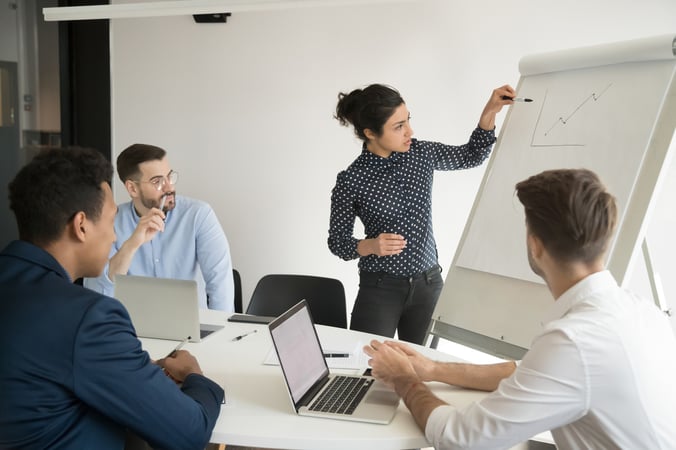 As your business grows, you will need to take on employees. This means you face an age-old question: Whether and when to set up a human resources department.
The least expensive option often appears to be ad hoc HR. You assign the various HR duties to employees with different primary duties. Maybe the receptionist is entering payroll, the office manager handling benefits, and you are trying to do employee development yourself. Unfortunately, this doesn't work in the long term. Any time people are spending on HR is time they are not spending on growing the company.
Which does point towards having an HR team, and there are certainly benefits.
Benefits of Human Resources Personnel
Focus on Core Business Priorities
When you have dedicated HR staff, other employees don't have to split their attention between their primary duties and HR activities. The process of switching between tasks takes time, lowering overall productivity. Also, because you and your employees are not trained in HR, it will take you longer than it would an HR professional.
By having HR people, everyone's efficiency goes up, which ultimately increases revenue.

Attract Top Talent
Your HR department will have expertise that allows you to recruit the right employees for your business. They can take enough time to do this right, without spending more time and money. The cost of recruitment goes down, and your chances of getting good candidates to accept an offer go up.
HR specialists can work on ensuring that every candidate who comes in is a good fit and making sure that candidates know they are a good fit, which makes them more likely to accept an offer.
They can also ensure that you have the best benefits and perks you can afford while keeping on top of what employees actually want so you can provide it at a reasonable cost.
Lower Turnover
A good HR team understands that their primary responsibility is the overall well-being of employees. Employees have the ability to seek help when they need it from a person other than their direct supervisor.
This increases employee morale and retention. People are also less likely to burn out when they feel they have proper support. As turnover is a major expense for most companies, this can save a lot of money in the long run. Additionally, keeping key employees around for longer preserves institutional memory. New employees tend to take longer on tasks and need to stop more to seek help, while your seasoned staff will develop their own efficient ways to do things.
More Productive Employees
When your employees are engaged and satisfied with their jobs, they are more productive. By ensuring that your employees get the support they need, including time off when necessary, your HR team can ensure that productivity remains high and that people stay late when it is absolutely needed.
All of this also increases revenue and helps control costs. Productive, engaged employees get more done in the same amount of time and tend to build a culture that helps new employees get up to speed faster, reducing the inevitable productivity loss during onboarding.
Better Compliance
Keeping up with the latest HR laws and regulations can be a full-time job on its own. Trained HR personnel have the experience to be able to do it in far less time, and are much less likely to make mistakes. They know how to use software that helps track compliance and reduce simple payroll errors such as entering the wrong base rate when calculating overtime or not entering all of an employee's hours.
Non-compliance can lead to fines, lawsuits, and severe damage to your reputation. Even a simple payroll error can wreck employee morale and cause key people to quit. For example, a New York company made an error with overtime pay calculations that resulted in lawsuits from multiple employees. Having to pay back pay in a lump sum can cause a business serious cash flow issues. Customers also care about how you treat your employees, and a fine or lawsuit can cause them to go to a competitor they perceive as caring more about their people.
All of this says that you need a HR department, but there are problems with that too.
The Problem With a Full HR Department
The biggest obstacle growing companies face is that it is expensive to hire full-time employees with benefits. This is a major reason why companies take the inefficient ad hoc approach. It usually takes more than one full-time HR employee to keep up with all of the compliance issues and administrative burdens, and that is before you worry about strategic goals.
However, many small companies simply cannot afford to hire an actual team. This leaves their one full-time employee overworked, overloaded and likely to be considering greener pastures.
Fortunately, there is a solution. The solution is to support your HR employee with HR outsourcing. This allows you to get the support of a full HR department for a fraction of the cost.
Your outsourcing partner will handle routine issues such as payroll and benefits administration. This allows your HR person to work on company culture, hiring strategies, and other more important tasks that maximize the benefit of having trained HR personnel on hand.
It's good to have an HR department, but not every company can afford a full HR department with multiple full-time employees. Instead, you should consider the option of combining a smaller HR department with outsourcing so you can have the best of both worlds.