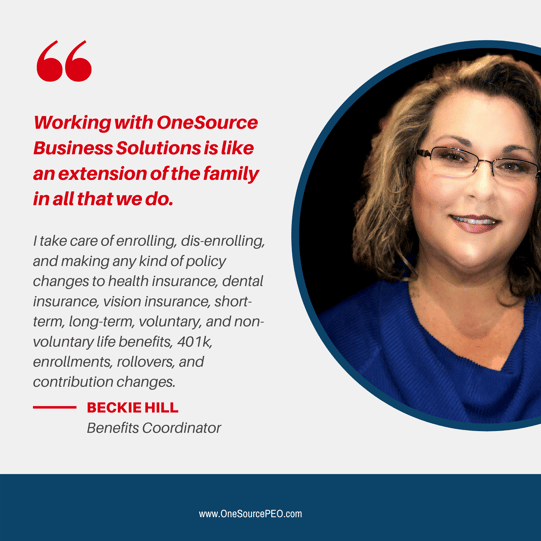 "Working with OneSource Business Solutions is like an extension of the family in all that we do." ~Beckie
At OneSource Business Solutions, employees are a critical part of the puzzle: the foundation that allows OneSource Business Solutions to deliver the high-caliber customer service its customers expect. We like to take a regular look at our employees and share with you and how they're performing on the job. Take the time to get to know Beckie Hill-Danford, who has been with OneSource Business Solutions for nearly eight years, as you walk through an interview with her and get a better idea of who she is and what she brings to the team.
Beckie exemplifies many of the attributes and qualities that are important to the OneSource Business Solutions team. Her role as a benefits coordinator is critical to ensuring that the team can access the benefits they need to know that their families are in good hands.
1. What is your job at OneSource Business Solutions? What do you do every day?
I am the benefits coordinator. So, I take care of enrolling, unenrolling, and making any kind of policy changes to health insurance, dental insurance, vision insurance, short-term, long-term, voluntary, and non-voluntary life benefits, 401k, enrollments, rollovers, and contribution changes.
2. What's an aspect of your job that you really enjoy?
I love helping people. That's what gives me satisfaction. At the end of the call, I know that I've been able to help the person and resolve their issues.
3. Can you think of a recent challenge with a client or team member you helped solve?
Well, I had an employee that thought they had enrolled their dependent on their plan, but it came back that they never actually sent the email with the application. We had to go and do some digging and some legwork with the carrier to get the dependent enrolled. Usually, there's only a set window of time that [an employee] has to add on the birth of a child or a life-changing event. Luckily, we were able to work with the employee [and get that coverage for their dependent]. In the end, it was a happy ending. The child was added, and everybody was happy.
4. What is it like to work at OneSource Business Solutions? What about working with the people there?
It's an extension of the family in everything that we do. We try to be very family-oriented. We treat everybody like we would want them to treat our brothers or sisters or mom or dad or grandparents. We take great pride in making sure that everybody feels that they've had the time that they deserve, that their situation has been addressed, and that they're appreciated for what they bring to OneSource Business Solutions.
5. How long have you been working at OneSource Business Solutions?
April will make eight years.
6. Wow! What were you doing before that?
I actually came to OneSource Business Solutions after several years as a dispatcher for law enforcement. The opportunity to come on board and have a "normal" schedule - versus holidays, weekends, and night shifts - was an opportunity that I just could not pass up. It was one of the best decisions I've ever made.
As part of the OneSource Business Solutions team, Beckie has brought her passion for service and making a difference in people's lives to work every day. When employees get her on the phone, they're relieved to know that their problems are in good hands and that she will go the extra mile.
OneSource Business Solutions is proud to employ Beckie and many other employees like her.