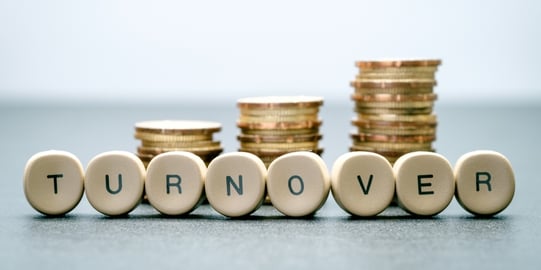 Employee turnover can hurt any business, but it can be especially costly for startups. Your business may face difficulties attracting and retaining top talent in your industry who are looking at Fortune 500 companies and the benefits they offer. You may not have a dedicated HR team or employee to help you avoid costly compliance fines from local, state, and federal employment law violations.
The good news is that you have options. Outsourced HR helps startups provide employees with competitive benefits while reducing the amount of time spent on administrative tasks like payroll and benefits administration. By outsourcing your HR needs, you can free up your time, your team's time, and reduce the likelihood of costly and embarrassing mistakes. Best of all, outsourcing your HR tasks to a trusted partner can help your startup reduce turnover and increase profits.
3 Ways HR Outsourcing Reduces Turnover
As you build your business, you want to make sure that you have a positive culture where people want to work. If your turnover is high, that can turn many potential employees away, leaving you struggling to grow your business.
There are three key ways that you can take proactive steps to reduce your startup's turnover. When you partner with a comprehensive HR outsourcing solution, they can help you with these three steps in an effort to keep your turnover low.
Access Competitive Benefits
Aside from salary, there is one company-provided item that employees consistently say is important in making their decision about which employer to work for: benefits. This includes everything from time off to sick leave and health insurance. Employees want a company that provides them with a comprehensive benefits package. When companies do not offer that, they risk losing the chance to attract and retain high-quality employees.
Workers today look for companies that offer competitive benefits. They want affordable and comprehensive health plans. They want flexible work options. And they want recognition of their contribution to the company. You can provide your existing and potential employees with what they want with a trusted HR outsourcing partner.
One form of HR outsourcing provides access to competitive benefits above and beyond the rest. That is a Professional Employer Organization (PEO). When you partner with a PEO, you gain access to their benefits plan negotiated at scale by experts. This can give your startup access to healthcare plans you may not have otherwise been able to get, at least not economically. With a PEO, you can provide Fortune 500 benefits at Fortune 500 costs, helping to attract and retain top talent.
Improve Workplace Culture
Workplace culture is more important today than ever before. Today's workforce looks for companies that not only provide them a stable position but also an employer that aligns with their values. This includes having a positive work environment.
Part of becoming an employer of choice is having a workplace that employees recommend to others and where potential employees want to work. If your startup is known for quick turnover, that can deter many potential employees from even applying for your open positions, let alone taking a position with your company.
Placing a focus on employee relations is key to changing this type of culture and creating a positive workplace environment. But if your HR team is swamped with administrative burdens like payroll, they do not have any time to focus on improving the company culture and adding essential benefits. A PEO, however, can take on these administrative burdens, freeing up your in-house HR team to focus on building a thriving company culture and focusing on employee relations.
Increase Retention with Best Practices
While every startup is unique, companies face similar challenges as they grow. You should not try to reinvent the wheel as you face these hurdles. When you partner with a PEO, you gain access to their HR experts who have experience with other companies facing similar challenges as you and who can recommend and help implement certain changes to help you overcome these difficulties faster and at less cost.
Part of retaining high-quality employees includes maximizing the efficiency of HR employees. This might initially sound counterintuitive because HR employees do not drive revenue directly like some other employees. However, through their focus on building an attractive employee culture, they can drive profits by helping your startup attract and retain top talent.
With a PEO guiding you, your HR team can shed some of the mundane, repetitive, and legally tumultuous duties, allowing them the opportunity to focus on building and maintaining a culture where people want to work. And that helps to drive your startup's profits and growth.
Reduce Turnover Costs with a PEO
The right PEO can help your startup thrive. Many HR outsourcing companies will promise you that they will do certain HR tasks like payroll. But you need much more than that and you need an HR expert who can help you navigate the complexities of being a startup and dealing with potentially hazardous turnover.
A PEO can provide your startup with a comprehensive HR outsourcing solution. Everything from payroll and benefits administration to HR compliance and policy creation, your PEO can be the trusted HR partner your startup needs.