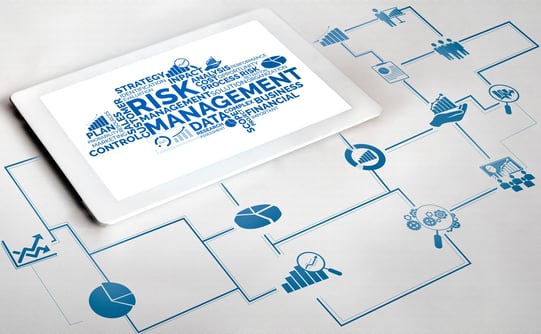 Every business faces risk and many times, you do not know where it might come from. A Professional Employer Organization (PEO) may be able to help. PEO risk management services means cost-saving techniques and compliance by HR experts.
According to a recent study, employment lawsuits have increased by 400% in the last two decades. The cases mostly stem from workplace injuries caused by violations of safety and health regulations, employment law violations, and discrimination or retaliation. Reducing the number of times your employees face these situations can reduce your company's likelihood of facing a costly and embarrassing lawsuit.
When your company uses a PEO, you get access to their risk management specialists, at no additional cost.
What is risk management?
Risk management is the process of identifying, analyzing, and taking action on risk that could impact your ability to operate your business. There are three principal components to proper small business risk management.
Risk Profile
Before you can address any risk, you must first understand where your risk lies. By creating a risk profile, you can objectively view the threats facing your company as whole, your corporate assets, your projects, and your employees. Conducting this analysis also clarifies your priority levels of where your risk management efforts should be focused.
Risk Identification
Once you have prioritized your risk profile, you can examine your risks. The aim here is to understand what will happen if you cannot mitigate the risk. Here, you will see how your company may lose profits or staff based on specific risks if they occur.
Risk Response
This is the most important part of risk management. Profiling and identifying your company's risks are vital, but if you do not take any action, the first two steps are moot. Risk response involves the planning and execution of reducing or eliminating threats to your company.
PEO Risk Management Services
When you partner with a PEO, you get PEO risk management services included in your plan. Part of risk management includes making sure your employees are properly trained and have been advised of safety and health protocol. The Occupational Safety and Health Administration (OSHA) will levy fines against you for non-compliance. This is not the only way risk management helps you save money.
Lower Workers' Comp EMR
One way to proactively ensure that your company stays out of trouble is to join your PEO's workers' compensation master plan. When you partner with a PEO, you access their experience modifier rate, or e-mod, which could significantly reduce your premiums. If you have had employees injured on the job before, your e-mod right might be high. Partnering with a PEO can not only get you proper workers' compensation coverage but also provide it at a more affordable rate.
Pay-as-you-go Workers' Comp
Besides a lower e-mod and premium, you will also avoid up-front costs. Your PEO will have already paid the down payment for the workers' comp plan, so your company simply pays the month-to-month premiums. Because your PEO will also handle your company's payroll, there is no estimating your payroll amount to determine your workers' comp premium. This pay-as-you-go workers' comp model helps your company conserve cash.
OSHA Compliance and Safety Training
Your PEO can also provide you with a full safety program, both for new hires and ongoing training. Utilizing this service can help to keep your employees safe on the job, reducing the risk of injury. When your employees stay safe, you avoid costly lawsuits and OSHA fines.
Claims Management
If your company has employees suffer on the job injuries, your PEO handles the claims management process for you. By working with experts, your PEO can help resolve any injury claims quickly and cost-effectively.
Other PEO Services
Risk management is just one of many services your PEO will provide to you. Alongside risk management, you will also get payroll services. This will include regular payroll processing, plus tax remittance. This way, you are sure to have your payroll run correctly and without error. Employees consistently state that too many wrong or late paychecks can make them look for a new job.
With a PEO, you also get access to higher quality benefits. Many small and mid-sized companies find it too costly and too burdensome to offer quality benefits to their employees. It's unfortunate because, aside from salary, benefits rank as the top reason a person will take a job or leave a job for another. Offering high-quality benefits at costs you can afford help to keep your employee satisfied.
PEOs also provide your company with compliance across the HR spectrum. There are many landmines in HR, including:
Americans with Disabilities Act (ADA)
Affordable Care Act (ACA)
Fair Labor Standards Act (FLSA)
Family Medical Leave Act (FMLA)
There are many others, too. Each of these can trip up the best-intentioned employers. Working with a PEO gives you access to HR experts who work tirelessly to keep your business compliant.
The Right PEO for You
Containing your business costs and preventing losses keeps your business operating, growing, and profitable. The best way your company can keep on this path is by partnering with a PEO that can provide you with expert risk management services resulting in cost savings for your business.