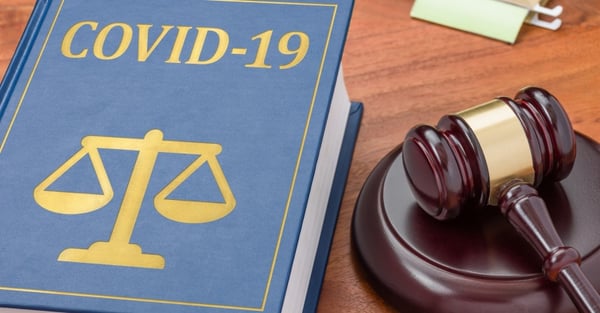 The Coronavirus (COVID-19) pandemic changed the way workers relate to their employment and to the world. Some engaged in remote working for the first time. Others were laid-off, some permanently, some temporarily. Others kept working in conditions less than conducive to good health.
As a result, many plaintiffs filed lawsuits against their employers. One litigation tracker estimates there are 783 complaints of various types across the nation. The most common complaint type relates to remote working/leave conflicts. Georgia has 12 COVID-19 complaints.
Employers have several ways to minimize liability in a lawsuit related to COVID-19. The following describes the various types of lawsuits, provides a general discussion of the federal and state employer shield laws, and suggests a few tips that employers can use to avoid COVID-19 lawsuits.
COVID-19 Lawsuit Categories
An employer's decision with respect to workers sent home in March 2020 creates similar issues for employers now ready to bring employees back to work. Discrimination looms large in these considerations. For example, the Equal Employment Opportunity Commission (EEOC) says that employers may not make assumptions as to age, ability to telework, known/suspected disabilities, and suspected vulnerabilities when making employment decisions.
The following are some examples of current lawsuits:
WARN Act Violations. Federal law under

the WARN Act requires

employers with more than 100 employees to give 60-days notice to employees before issuing a mass layoff or closing a plant. Giving less than the required days' notice may result in back pay and penalties. Several plaintiffs filed WARN cases after COVID-19 closures. One Florida class-action case, Scott and Seales v. Hooters III, Inc. filed in April 2020 accuses Hooters of violating the notice requirement when it issued a mass layoff without notice in March 2020. The federal law contains an exception for unforeseen business circumstances but state WARN laws may not have the same exception.
FFCRA paid leave. When Congress passed the Families First Coronavirus Response Act (FFCRA), the new law covered paid leave for employees during the pandemic. Employees have claimed denial of paid leave benefits or retaliation for applying to receive paid leave benefits. In New Jersey, Spells v. Physician and Tactical Health Services, the plaintiff claims his employer denied his request for paid leave benefits and instead suggested he apply for unemployment. The employer also refused to let him work remotely and told him that, if he did not return to work, he would be considered a voluntary layoff. Plaintiff sued for wrongful termination, unpaid wages, and retaliation. The Spells case faces serious headwinds as his employer is a health care provider and therefore the FFRCA may not apply to his situation.
Unsafe Working Conditions. On June 3, 2020, widow Norma Zuniga filed the case Zuniga v. Safeway, et al in Superior Court of the State of California, County of Alameda. The plaintiff claims that the defendant's gross negligence, violations of federal OSHA, violations of California OSHA, and fraud caused the wrongful death of Pedro Zuniga by providing unsafe working conditions during the COVID-19 pandemic. The lawsuit claims that the employer did not isolate sick workers and told workers that masks will not help protect them.
Retaliation. COVID-19 produced an increase in whistleblower lawsuits against employers for retaliation. And it's not just OSHA whistleblower rules but also state restrictions against retaliation. For example, in Cimmino v. Italian Village Pizzeria

,

filed in the Superior Court of New Jersey, the plaintiff claims violation of the New Jersey Conscientious Employee Protection Act (CEPA) when the company did not provide masks to employees or implement social distancing policies. Plaintiff claims he was not allowed to return to work in retaliation for expressing his safety concerns.
Wage and Hour Violations. Class-action cases against New York employers include claims for violations of wage and hour laws. For example, railway workers claimed their benefits and pay were cut which resulted in them being reduced from full-time to part-time workers even though the employers received $5 billion in federal money to keep employees working full-time.
Wrongful Death. Lawsuit complaints against meat-packing plants increased based on COVID-19. Iniguez v. Aurora Packing Company, Inc. is one example of such a lawsuit filed in Kane County, Illinois. Iniguez died shortly after she was infected by her husband with COVID-19. Her husband worked in proximity to other workers as a butcher in the meatpacking plant. Iniguez died at age 67, just four days after her husband contracted the virus at work. She tested positive for the virus the day before her death. Her son also tested positive. The lawsuit claims the employer made no effort to protect workers against COVID-19 even after an outbreak in April.
Federal Liability Shield
Federal legislators proposed the Safe to Work Act in Senate Bill 4317, introduced in July 2020. The bill sits with the Senate Judiciary Committee. The bill would protect employers that follow public health guidelines and would retain liability for gross negligence and intentional misconduct. However, there has been no movement on the bill to date. That means no federal liability shield is being enforced.
Georgia's Liability Shield
Georgia passed liability protection for businesses in the Georgia COVID-19 Pandemic Business Safety Act. The law is in effect and provides that plaintiffs face a rebuttable presumption that they assumed the risk of exposure by continuing to go to work for the defendant employer. This law shifts the burden of proof to the plaintiff but does not apply if the defendant is accused of gross negligence, intentional misconduct, or intentional harm. If the plaintiff cannot rebut the risk presumption, the lawsuit will not go forward.
Tips to Avoid Lawsuits
Here are a few ways that employers can help avoid lawsuits in this uncertain time.
Keep Employees Safe. To do this requires following social distancing guidelines, providing face coverings, and abiding by other measures recommended by the Centers for Disease Control (CDC) and OSHA.
Adhere to Legal Standards. An effective defense against lawsuits is an employer's compliance with regulatory standards.
Document Adverse Actions. Employers may avoid retaliation and discrimination lawsuits by keeping meticulous records of employee complaints and the actions taken to fix those complaints. Keeping the lines of communication open and well-documented will show good faith attempts to fix the complaint.
Take Paid Leave Requests Seriously. Employers may avoid or limit their exposure to paid leave lawsuits by developing operating procedures that comply with the laws and by documenting the actions taken. Include new policies regarding remote working for employees.
Going Forward
The number of COVID-19 related lawsuits is expected to rise as states and municipalities relax the COVID-19 restrictions and employees head back to work. This is likely due to the speed with which employers closed down operations due to the pandemic. Employers are well-advised to keep abreast of all new legislation and recommendations from labor agencies.