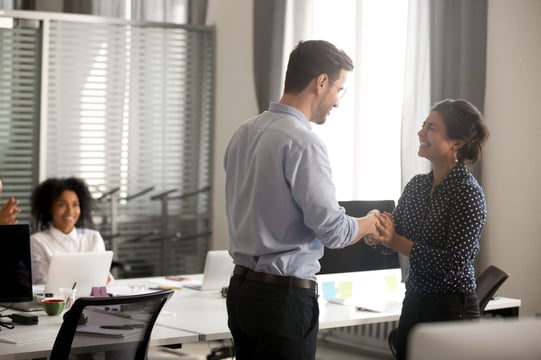 Are you looking for some HR help?
You're not alone. Over 76% of companies currently outsource human resources. Unfortunately, finding the right outsourced HR partner isn't always easy.
Two of the most popular options are Professional Employer Organizations (PEOs) and Administrative Service Organizations (ASOs). But what's the difference?
Here's what you need to know.
What is a PEO?
A Professional Employer Organization (PEO) is an outsourced HR partner that provides end-to-end HR solutions to help businesses grow faster, save money, and adhere to stringent regulatory requirements. PEOs tackle a wide range of responsibilities, including:
Benefits administration (e.g., health insurance, retirement, wellness, etc.)
Payroll administration
Payroll tax filing
Compliance and risk management
HR administration (e.g., employee handbooks, documentation, etc.)
Workers' compensation insurance
Family Medical Leave Act (FMLA) assistance
Unemployment administration (lower SUTA rates)
Recruiting assistance
Unlike other outsourced HR services (e.g., payroll processors, benefits brokers, etc.), PEOs work hand-in-hand with your business to create robust HR frameworks that extend to nearly every corner of your business. Nearly every HR nook-and-cranny will be handled by your PEO, giving you the freedom to focus on growing your business, meeting sales requirements, and creating best-of-breed products and services for your customers.
What is an ASO?
An Administrative Services Organization (ASO) is an outsourced HR service that provides selective HR support. This often includes:
Payroll administration
Compliance
Unemployment assistance
Recruiting assistance
The term "ASO" was created in the 1990s to help differentiate between PEOs and other HR providers. Technically, ASOs is a broad term. It essentially refers to any outsourced HR provider that offers selective buckets of HR administrative assistance to businesses. So, ASOs may or may not offer any or all of the services above. It's an incredibly variable industry. PEOs, on the other hand, are all somewhat similar. Tighter definitions and requirements drive the PEO industry. This is all due to one very important difference between the two solutions: co-employment.
What is the Difference Between a PEO vs. ASO?
The most important difference between ASOs and PEOs is co-employment. PEOs enter a co-employment relationship with your business, effectively making them the "employer of record" for tax purposes.
Despite the name, co-employment does not mean that your PEO controls your employees or has any impact on your overall business offerings. You still maintain day-to-day control and handle the hiring and firing of employees. Co-employment is simply a legal tool that allows PEOs to negotiate for benefits on behalf of your company, file employees under their tax FEIN, and add your business to their workers' compensation insurance master plan.
Why Choose an ASO?
ASOs wouldn't exist if they didn't offer value to businesses. Typically, ASOs work with massive corporations that already have amazing workers' compensation and benefits. However, there's a reason that fringe HR solutions like ASOs and payroll processors are experiencing shrinking market growth, PEOs simply offer better overall value (price-to-price) than other HR solutions.
Why Choose a PEO?
Over 175,000 businesses partner with a PEO. Not only are PEOs the fastest-growing outsourced HR solution on the market, but they're the only outsourced HR option that generates a proven positive ROI. Typically, small and mid-market companies are the primary customers of PEOs (namely due to benefits administration value), but PEOs are also increasingly common for larger companies.
PEOs provide plenty of tangible and intangible benefits that you simply can't get anywhere else. From cost-effective benefits to remitting payroll taxes, partnering with a PEO is a truly transformative venture. Businesses that commit to that partnership grow 7 to 9 percent faster on average and are 50% less likely to close their doors. This gives them the competitive advantage necessary to seriously compete in today's hyper-competitive talent marketplace.
PEO vs. ASO: Two Wildly Different Solutions
Despite offering many of the same benefits, PEOs and ASOs share a pretty hefty difference: co-employment. PEOs are the only outsourced HR partner that offers cost-effective benefits, workers' compensation insurance, and payroll taxes. In addition, PEOs have a wealth of research backing up their value to businesses, leading them to be the fastest-growing segment of outsourced HR. When it comes to value, scalability, and flexibility, PEOs are in a class of their own.