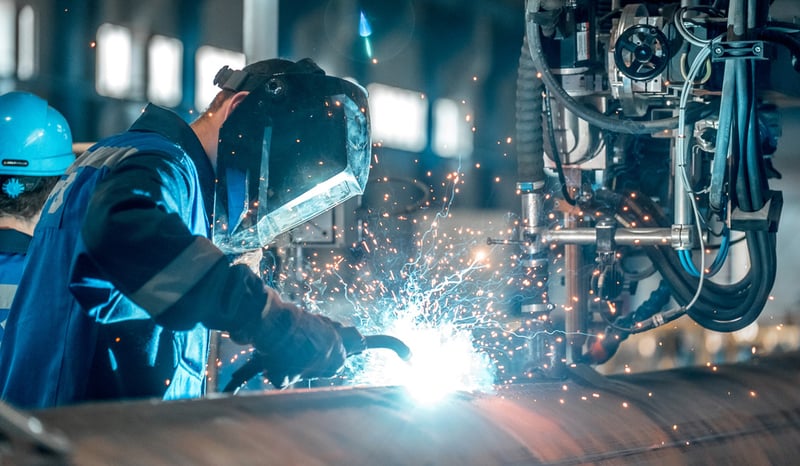 The costs of employee benefits, especially healthcare costs, are at a constant rise. At the moment, healthcare benefits cost an average employer an annual fee of about $21,342 per employee. If you have 100 workers, this is around $2,134,200 annually, and these numbers will rise by 6.5% in 2022. The cause of this surge has in part been due to COVID-19 that has been spreading across the US.
However, it is crucial to reduce the cost of health insurance efficiently to continue retaining and attracting the best talent. This overview is an in-depth discussion of the top employee benefits in the manufacturing industry. It also looks at how partnering with Professional Employment Organizations (PEOs) such as Onesource Business Solutions can directly access cost savings for benefits.
Essential Employee Benefits
   Health Insurance 
Health insurance is an insurance plan that covers medical and surgical expenses in exchange for a fee. An insurer offers the policy directly to your employer through an insurance broker or through a PEO to find the best-suited plan for employee needs. As an employer, you are required to offer health insurance when you have 50 employees or FTE (full-time equivalents) who work over 30 hours a week.
   Paid time off 
Most companies offer vacation time to help keep morale up; however, a company can also offer paid time off. Paid time off is necessary for organizations because it helps in employee retention and attracting talent.
   Accident insurance 
Accident insurance is more commonly called workers' compensation insurance. It covers medical expenses and some of the lost wages if an employee sustains injuries from their job. In the event of death, it may cover funeral costs as well.
   Disability insurance 
Disability insurance is a form of insurance that insures the employee from loss of income and ability to work because of a job-related incident that leads to a disability. There is a clear distinction between this and workers' compensation. Workers' compensation only covers injuries for which the employer is responsible, while disability insurance covers an employee for injuries that are not necessarily work-related.
There are two types of disability insurance. These are;
  Short-term. This type takes precedence when an employee is off work for a short time because of injuries. 
  Long-term. This type of disability insurance is for when an employee has an injury or chronic illness that prevents him or her from working for long periods.
   Life Insurance 
Life insurance is an insurance policy that covers employees in the event of their death. The benefit money is typically paid to their spouse or children, depending on what the policy states. As a company, the plan comes as group life insurance, which is an insurance plan that covers all employees under one contract, with the employer being the policy owner.
   Vision Insurance
Vision insurance is a plan that employees can opt into. The policy can pay for the employees' eye checkups and glasses. It is especially beneficial if the employees are performing tasks that could lead to eye problems.
   Dental Insurance
Dental insurance is an insurance plan that covers employees' dental health. Employees pay for part of the insurance and employers pay for the other portion. Dental insurance plans have a yearly maximum, and employees can choose from various dentists in their area.
Reducing Employee Benefits Cost using a PEO
The best way to attract and retain top talent is to first, offer these benefits. As an employer, reducing the cost of these employee benefits can help your bottom line. However, to do this, you may require the help and expertise of a PEO. A PEO (Professional Employer Organization) is a third-party entity that enables small and medium-sized companies to provide their employees with better and more affordable benefits.
How PEOs Capture Cost Savings
PEOs also aid in streamlining various administrative and HR functions such as payroll, compliance and benefits administration. By streamlining these business aspects and reducing workers' compensation costs, they help their clients to capture cost savings. For example, for employee benefits, a PEO will use the economics of scale to ensure that your employees receive top services at affordable rates.
Using the economics of scale means they use their size to leverage against insurance providers and get lower rates for top benefits. By taking this measure, they reduce the cost incurred on your part. Due to their understanding of the employment and labor laws, they also ensure that your company is HR compliant to avoid paying costly fines.
About Onesource Business Solutions
Every company wants to provide top employee benefits to attract and retain the best talent in the field. To achieve this, companies need the help of a PEO because it enables small and medium-sized companies to offer these top employee benefits without breaking the bank.
At Onesource Business Solutions, we offer PEO services to companies around the US. Our services ensure that you do not have to worry about non-revenue producing business functions. You can finally focus on areas that generate more revenue for your business. The result of working with us is that your company, whether small or medium-sized, will have the ability to offer top employee benefits at affordable rates.